Latest Features/Blogs
AIA PRESS CENTER
AIA Champions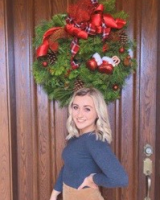 Madeleine Nemeth
Perry High School
Unified Sports - Partner of the Year
Madeleine has been a part of Perry High School's Unified Sports program for all 4 years of her high school career. She is known for her honesty, dedication, compassion, and enthusiasm. She has been the Student President of Unified Sports at Perry High School for the last two years and also helped lead the campus' Spread the Word: Inclusion Campaign – a campaign dedicated to promoting inclusion for all people with intellectual and developmental disabilities. She led this initiative on her campus by asking fellow students to pledge each year to spread inclusion in their communities. In addition to involving her fellow classmates in inclusion, she also made sure that the Unified team was announced at pep assemblies with all the other sports teams on campus.
Madeleine plays a valuable role as a Unified Partner by demonstrating meaningful inclusion through her leadership, encouragement, understanding and support. She helps her teammates realize their full potential and is a great role model for the other partners on the team, as well as on the opposing teams. She plans to continue her education at Utah State and double major in Kinesiology and Communication Disorders.
AIA TODAY
2022-2024 Reclassification
School Conference Appeals and Results.
The region placements are now posted following conference appeals (reminder, these exclude football). Regions are still being finalized for Fall Soccer and 3A Winter soccer and will be posted as soon as they are available.

Schools may appeal their region placement by Monday, Nov. 1 at 2 p.m. using the Region Placement Appeal Form.

Division placements are also available for individual sports. Section placements for badminton, cross country, golf, wrestling, tennis and track will be posted as soon as they are available.
Timeline for the 2022-2024 Conference/Region Reclassification
Events for the week of October 25, 2021
Monday, October 25, 2021
4A Conference Mtg (Brd Rm) - 9:00 am - 12:00 pm
Tuesday, October 26, 2021
Winter Hardship Appeals ( AIA Board Rm)
Thursday, October 28, 2021
SMAC - 7:30 am - 9:00 am
District AD Meeting (Brd Room) - 10:00 am - 12:00 pm
Friday, October 29, 2021
Winter Coaches Mtg Deadline
Saturday, October 30, 2021
Winter Coaches Q & A (zoom)
AIA QUICK LINKS